Black Cherry & Titanic | Unisex Perfume Combo | 100ml + 100ml
Black Cherry & Titanic | Unisex Perfume Combo | 100ml + 100ml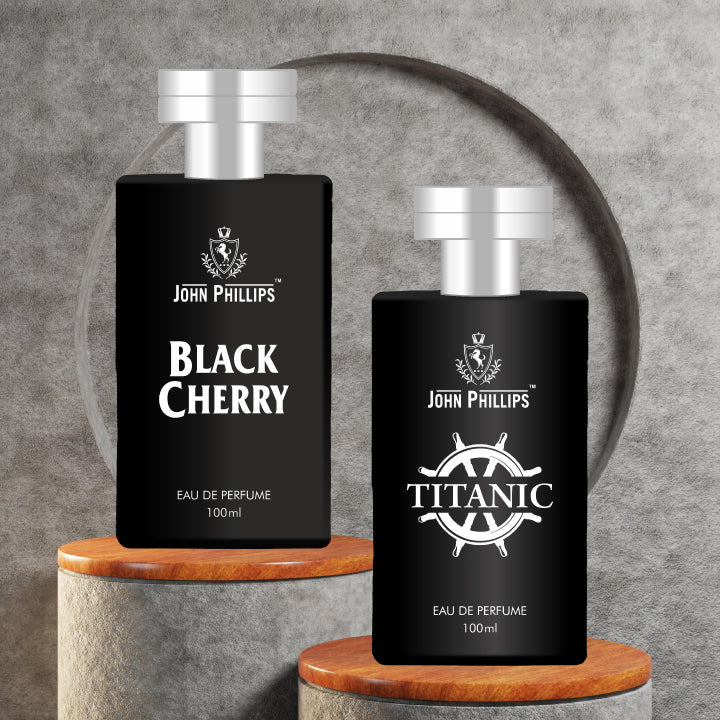 Black Cherry & Titanic | Unisex Perfume Combo | 100ml + 100ml
Orders ship within 24 hour.
Hoorey ! This item ships free in India
Introducing John Phillips Perfume Collection: A Tale of Elegance and Intrigue
BLACK CHERRY Eau De Perfume: Step into a world where darkness and elegance converge with BLACK CHERRY by John Phillips. This exquisite fragrance unveils a rich and luminous opening, capturing the essence of a refined French scent. Designed for the adventurous young generation, BLACK CHERRY redefines sensuality with its blend of floral, citrus, and spice notes. The journey begins with a refreshing citrusy burst and a hint of lavender, evolving into a heart of balsamic, ambary, and herbaceous accords. Finally, it settles into a captivating base of patchouli, moss, and powdery notes. With skin-friendly, long-lasting characteristics, this perfume is an invitation to explore the world in style.
TITANIC Eau De Perfume: TITANIC, also from the house of John Phillips, is a fragrance that embodies tenderness, freshness, and a hint of mischief. An aromatic symphony of mellow woods and luxurious suede, it effortlessly bridges the feminine and masculine worlds. This fragrance is a seductive blend of fresh, citrusy top notes, spiced with a touch of clove at the heart. The base notes provide a clean, aromatic freshness, enhanced by the presence of light woody-musk and tobacco undertones. The perfume's bottle, shaped with precision and coated in glossy black with a silver metalized T-shaped cap, complements the box design that pays homage to the iconic Titanic movie theme, complete with an embossed and drip effect.
John Phillips Perfume Collection combines elegance, power, rebellion, and magnetism, inviting you to embark on a fragrant journey that's uniquely irresistible.