Senortia & Happy Hours
Senortia & Happy Hours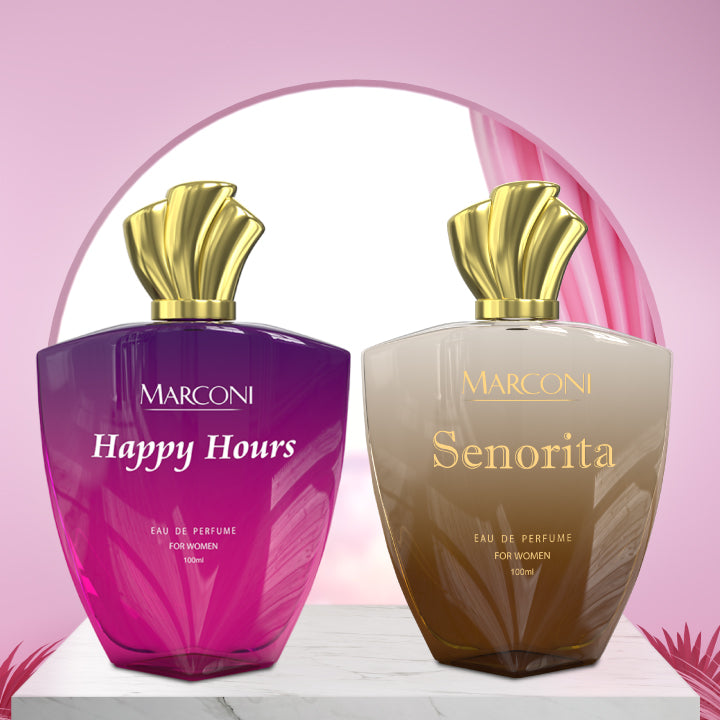 Senortia & Happy Hours
Orders ship within 24 hour.
Hoorey ! This item ships free in India
Senorita is effortlessly elegant, mature, optimistic, energetic and bold scent curated specially from black currant combined with white flowers, jasmine and sandalwood to give sweet notes of bustling beauty.
Happy Hours feminine, sensual and modern fragrance designed to turn heads of many. HAPPY HOURS is designed after carefully curating geranium flowers , sweet peas, patchouli and damask rose to make her the center of attraction and be remembered by her scent.
By The Perfumer  :
Senorita is a magical fragrance of sensual, sparkling fruity, citrus notes which opens with an enticing fruit mix of blackcurrant and various other fruits. The heart note is described as a playful tease revealing white floral flowers, lemon and grapefruit. The dry down is a captivating combination of jasmine, magnolia, sandalwood and leathery notes.
Happy Hours is a sweet floral scent with fruity, musky accents. At the opening bergamot is paired with a frosty accord and with zesty floral freesia and sweet peas. The heart note is a bouquet of fruity and luminous geranium flowers. At the close patchouli combined with Damask Rose for a more attractive dry down.
Marconi Happy Hours (Eau De Perfume) for Women 
Brand: Marconi
Volume: 100ml
Ideal For: Women
Use: Daily Wear
Skin Friendly: Yes
Long Lasting: Yes
Number Of Sprays: 1400
Fragrance Mapping: Floral Fruity
Top Note: Citrus Bergamot, Floral Freesia, Sweet Pea.
Heart Note: Floral Rose, Geranium, Fruity.
Base Note: Patchouli, Damask Rose, Rose De Mai
Manufacturer: PIONEER HERBALS
Bottle:-  Bottle has a two toned colour and golden metalized cap.
Box:- The box has spot emboss UV with Pink Foiling which adds a unique beauty to the product.
Marconi Senorita (Eau De Perfume) for Women
Brand: Marconi
Volume: 100ml
Ideal For: Women
Use: Daily Wear
Skin Friendly: Yes
Long Lasting: Yes
Number Of Sprays: 1400
Fragrance Mapping: Citrus, Leather
Top Note: Black Currant, Citrus, Fruity
Heart Note: White Floral, Sweet, Grapefruit, Lemon
Base Note: Magnolia, Leather, Sandalwood, Jasmine
Manufacturer: PIONEER HERBALS
Bottle:- Bottle has a two toned colour and golden metalized cap. 
Box:- A unique leopard texted design of box with flocking effect which makes you feel velvet in your hands