French Classic & My Sweet Love
French Classic & My Sweet Love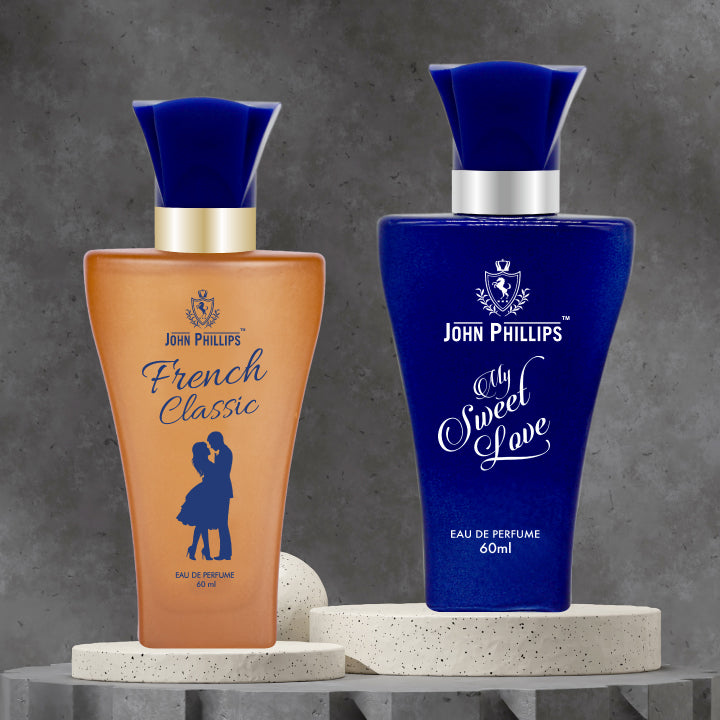 French Classic & My Sweet Love
Orders ship within 24 hour.
Hoorey ! This item ships free in India
French Classic :
Indulge the real scents of beauty bind and daring scents that makes you feel Beautiful & refined. Smell like a dream with this seductive scent. Spray some of it on your collarbone and wrists just before the two of you head out for a romantic dinner. We bet you€™re going to smell so sexy and irresistible.
My Sweet Love :
The essence of women's charm. Awaken your sense to the calm Beauty of floral bouquet of several varieties mingling with delicate Blossoms melt into the note of floral scents. Cause Beauty and sophistication is just a spritz Away...Fresh & Feminine to a Beautiful You... A Light Fresh scent that makes you simply Beautiful. A Scent of confidence and Beauty and an Expression of scent of That Feminine Glamour that Encompasses Every Woman of Elegance and charisma.
By The Perfumer  :
French Classic is ideally designed for young and energetic women. Its zest is refreshing, awakening and exhilarating. The fragrance opens with bright and sparkling grapefruit aroma along with Apple and Blackcurrant. The heart note is enhanced with floral notes of Water Lily, Pink Freesia and Peach. The composition closes with Musk, Amber and African Sandalwood which gives a strong base to this light and gentle fragrance.
My Sweet love The scent of love. A sparkling opening bursts with Citrus Fruit with a mouth watering note of Berries. The heart note unveils a bouquet of Fresh Floral Flowers and a seductive closing note of Fruity, Wed Woods and Musk.
John Phillips French Classic (Eau De Perfume) 
Brand: John Phillips
Volume: 60ml
Ideal For: Women
Use: Party Wear
Fragrance Mapping:

Floral, Fruity

Top Note:

Grapefruit, Blackcurrant, Apple

Heart Note:

Water Lily, Pink Freesia, Peach

Base Note:

African Sandalwood, Musk, Amber
John Phillips My Sweet Love (Eau De Perfume) 
Brand: John Phillips
Volume: 60ml
Ideal For: Women
Use: Party Wear
Fragrance Mapping: Fruity Floral
Top Note: Fruity, Berry, Sweet
Heart Note: Floral
Base Note: Woody, Musky, Fruity