Smog set X 3 | Men Body Deodorant
Smog set X 3 | Men Body Deodorant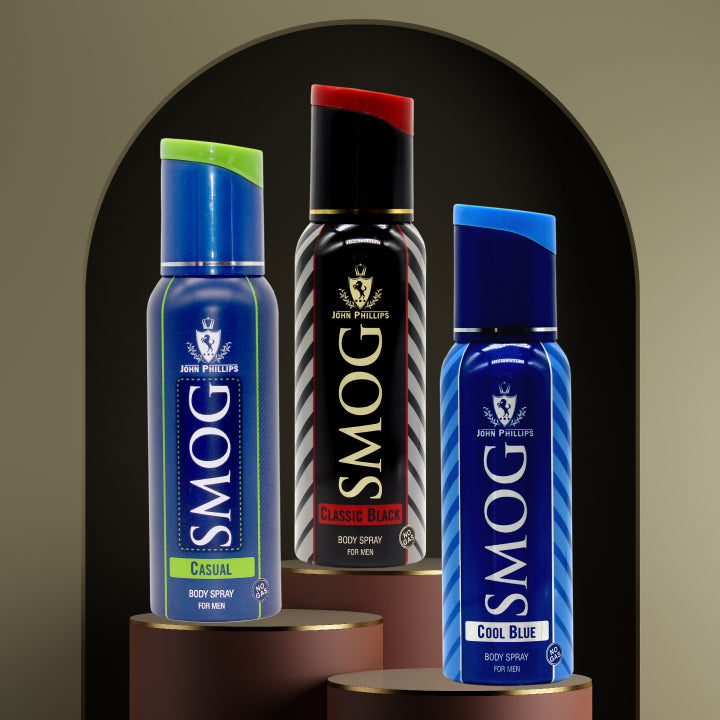 Smog set X 3 | Men Body Deodorant
Orders ship within 24 hour.
Hoorey ! This item ships free in India
John Phillips Smog (Classic Black) Body Spray
SMOG CLASSIC BLACK is a classic Fougera accord updated with a contemporary fruity note. Scented with bergamot. Spicy tones of heart notes like Juniper, Coriander, Cinnamon, Angelica and Absinthe to add freshness. The woody end note is highlighted with Oakmoss, Fir, Patchouli and Musk.
John Phillips Smog (Casual) Body Spray
SMOG CASUAL is Slightly green and fresh top notes with blend of spice and citrus components. Middle note unites with floral and herbaceous strong masculine fragrance. The dry down note consists of woody notes.
John Phillips Smog (Cool Blue) Body Spray
SMOG COOL BLUE is an energizing composition of marine notes and mandarin orange. A fragrance with a stimulating touch of floral jasmine and bay leaf heart note and a vibrant base note of oakmoss and patchouli.
Specification:
John Phillips Smog (Classic Black) Body Spray
Brand: John Phillips
Volume: 120ml
Ideal For: Men
Use: Occasional & Party Wear
Fragrance Mapping: 
Top Note: Bergamot, Floral
Heart Note: Spicy
Base Note: Woody
Skin Friendly: Yes
Long Lasting: Yes
John Phillips Smog (Casual) Body Spray
Brand: John Phillips
Volume: 120ml
Ideal For : Men
Use: Daily Wear
Fragrance Mapping: Fougera Aromatic
Top Note: Aromatic, Citrus, Fresh, Spicy
Heart Note: Floral, Herbaceous
Base Note: Balsamic, Woody
Skin Friendly: Yes
Long Lasting: Yes
John Phillips Smog (Cool Blue) Body Spray
Brand: John Phillips
Volume: 120ml
Ideal For: Men
Use: Daily Wear
Fragrance Mapping: 
Top Note: Marine, Mandarin
Heart Note: Bay Leaf, Jasmine
Base Note: Patchouli, Oakmoss
Skin Friendly: Yes
Long Lasting: Yes